Our members in Germany
Jane
 During my stay in the Philippines I lived in Borongan, the capital of Eastern Samar. I worked there for th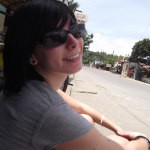 e social project "Women and Children Protection Unit" (WCPU). The WCPU is a one-stop-shop facility that offers child-friendly services on investigation, medical examination and psychosocial care for women and children who may have suffered abuse or neglect. The WCPU specifically was not that much affected by the Typhoon Yolanda but the city itself was hit hardly by the strong wind and the storm surge. On March 2014 I was able to visit the Waray-Region and to see the destructive legacy of Yolanda.
At the moment I´m living in Dresden, where I am working for a Non-Governmental-Organization.
---
Jan-Patrick
I spend my volunteering-year called "weltwärts" in the small community Hernani, Eastern Samar. There I organized and established together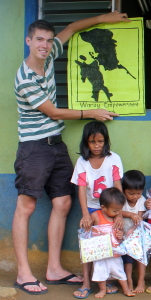 with Renato Calvadores, the Barangay Captain, a Rainforestation Demonstration Farm. More precisely, we planted local trees and fruit trees on fields overgrown with elefantgrass. At the moment I´m studying applied economics at the university in Osnabrück.
On February 2014 I visited Hernani to look for potential projects for the Waray Empowerment Network and to meet our first scholars. Hernani was hit enormously strong by the typhoon and almost every house was affected. Yolanda/Haiyan disrooted and damaged so many palms and coconut trees that the local people lost their income basis. It impressed me a lot how motivated the scholars organized their own projects in such a short time. The scholars Joseph and John Rey organized the distribution of seeds and school supplies in the communities together with a group of highly motivated youths from Hernani. Working with these guys was fun, auspicious, motivating and pointed out the high potentials that exist.
---
Mathis
As part of my Civil Service I spent one year from 2009 to 2010 in Eastern Samar, Philippines. I lived in Borongan, the capital of Eastern Samar, located at the coast of the Pacific Ocean. One Year is a long time and so I had the opportunity to work in various projects. I worked a couple of hours per week at the Provincial Hospital and also at the Eastern Samar State University (ESSU-Borongan). There I was in charge of the organization and realization of medical educational programs for upstream Barangays.
Since I´m back I´m living in Berlin and studying human medicine at the Charité Berlin.
I´m still in contact with my friends and colleagues in Borongan and I was so shocked when I saw all the pictures and the news of how the Typhoon hit the coast of Eastern Samar. On March 2014 I travelled together with another former volunteer to the Philippines to get our own image of the situation there and to promote and realize our project "Waray Empowerment Network".